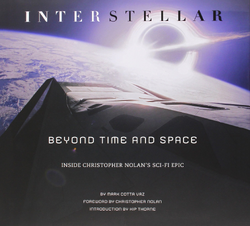 Interstellar: Beyond Time and Space is a "making of" book that features exclusive behind the scenes photos and diagrams that factored in the making of the film. It was written by Mark Cotta Vaz and released by Running Press on November 7, 2014.
Synopsis via Amazon
Edit
"In his sci-fi epic Interstellar, Christopher Nolan takes on the infinite canvas of space to deliver a cutting-edge, emotionally charged adventure that will amaze audiences of all ages. Interstellar: Beyond Time and Space documents the making of Nolan's latest masterpiece in fascinating detail and features interviews with the acclaimed director, along with screenwriter Jonathan Nolan, producer Emma Thomas, and other key members of the production team. Delving into the science and philosophy behind the film, Interstellar: Beyond Time and Space dynamically showcases its incredible concept art, including costume designs, storyboards, and other fascinating preproduction elements. Also featuring interviews with the exceptional cast, including Matthew McConaughey and Anne Hathaway, Interstellar: Beyond Time and Space tells the full story of the making of the film, with candid pictures illustrating its elaborate set pieces and reliance on classic special effects techniques. Visually enthralling and engrossing in its in-depth exploration of the themes and ideas at the heart of Interstellar, this book is the perfect accompaniment to one of the most anticipated films of 2014."
References
Edit
Ad blocker interference detected!
Wikia is a free-to-use site that makes money from advertising. We have a modified experience for viewers using ad blockers

Wikia is not accessible if you've made further modifications. Remove the custom ad blocker rule(s) and the page will load as expected.