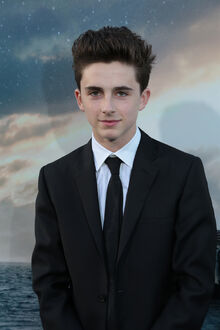 Timothée Chalamet (born December 26, 1995) is an American actor. He is known for playing Finn Walden in the drama series Homeland. In 2014, he appeared in the films Men, Women & Children and Interstellar. He also had roles on the television series Law & Order and Royal Pains, and in the television film Loving Leah.
Ad blocker interference detected!
Wikia is a free-to-use site that makes money from advertising. We have a modified experience for viewers using ad blockers

Wikia is not accessible if you've made further modifications. Remove the custom ad blocker rule(s) and the page will load as expected.